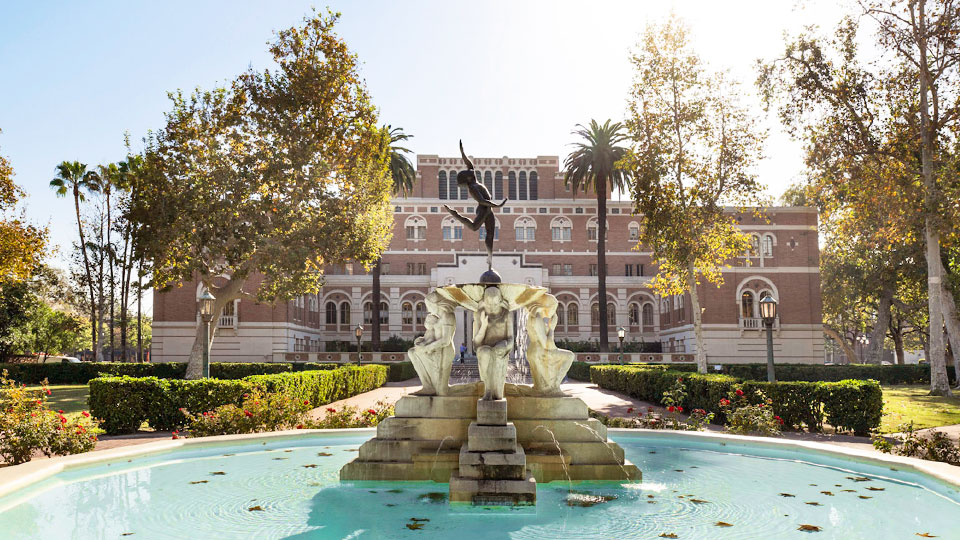 USC provides support and resources for all stages of your life, and the lives of your family members as well.
Enhanced support during COVID-19
Options specific to the pandemic are outlined below. Also, see Bright Horizons' Enhanced Family Supports FAQ as well as their FAQ on Back-Up Care.
Also see Bright Horizons' health and safety protocols.
Read more about the enhanced support during COVID-19:
Child care options
Onsite child care centers for children (ages six weeks through five years)
USC offers child care programs at both UPC and HSC, in centers operated by Bright Horizons. These programs continue to operate with increased health, safety, and hygiene measures in place. Bright Horizons is complying with capacity and density guidance from the Los Angeles Department of Public Health, and enrollment prioritization is currently based on the following criteria, until county guidelines allow a return to normal capacity levels:
Families with a USC employee required to work onsite and families with a USC employee teaching or conducting research onsite or remotely
Families with a USC employee working from home in a non-teaching and non-research role
Postdoctoral scholars and students
More information about our child care centers is available below:
Back-up dependent care (ages one month to 18 years, and elder care)
Several options are available through Bright Horizons' back-up care program, which is a care option when your normal child care or elder care options are not available. Note that back-up care is not limited to families enrolled in USC child care centers. Benefits-eligible employees can create an account on the Bright Horizons site to access these options. Visit Bright Horizons (first time users, click on "First time user" at the bottom, then on the sign up page use username: USoCal, password: Benefits4You). Bright Horizons can also be reached at 877-BHCares (877-242-2737). NOTE: Benefits may vary by location, and some employees are governed by contracts that do not include these benefits; check directly with Bright Horizons. Once you have an account, you may access in-home or center care:
In-home care provided by a Bright Horizons' employee – A vetted caregiver cares for your dependents in your home, with health screenings conducted daily for both the caregiver and family. Bright Horizons will use best efforts to assign the same caregiver for all families who choose a continuous care giving option. When non-continuous or occasional care works best for a family, it is not always possible to provide the same caregiver each time. In-home care:
Has a co-pay of $6/hour per child/elder, for up to 3 dependents needing care
Requires a minimum of 4 hours/day
Can be booked up to one week in advance
Please watch this video on Bright Horizons' in-home back-up care, including new safety protocols required of all in-home providers.
In-home care provided by a SitterCity.com nanny – SitterCity nanny services can be accessed through the Bright Horizons website, which provides you a free premium SitterCity account and unlimited free basic background checks. You provide information on your needs, and nannies/sitters registered on the site who meet your criteria can initiate contact with you. Nanny services are not managed nor provided by Bright Horizons; they are managed and provided by SitterCity. Note that:
Costs vary by nanny and number of children
Length of nanny services must be specified (e.g., 3 months)
Center care –The Bright Horizons website allows you to enter your zip code to find which of their centers are open near you. Please note:
The cost is $15/day for one child; $25/day for up to 3 children (center age limits vary; check with Bright Horizons)
Spots can be reserved up to one month in advance of when you'll need care
Back to enhanced support during COVID-19
Learning pods, tutoring, and school support discounts
USC has secured the benefits below for families of all benefits-eligible employees – effective through June 30, 2021.
Learning pods
Helps families find educators who can guide in-home learning for children (ages 5 to 18 years) in small groups or one-on-one. This benefit can be accessed through Sittercity and includes the following features:
Parents can post a learning pod job or browse for sitters and educators that meet their needs
Educators will be badged on the Sittercity site as "Ready to Teach"
Learning pods can be virtual and/or in-home
Tutoring and school support discounts
USC employee parents can access enhanced tutoring and school support discounts through the following providers:
Varsity Tutors
For children five to 18 years
Expert live instruction on diverse subjects: math, science, languages, literature, and more
1:1 online tutoring: 40,000+ tutors and instructors
Small group online tutoring: easily create live online small group tutoring sessions
Suite of learning tools: including live instant homework help, adaptive testing and grade readiness assessments, learning lab, and weekly progress reports
20% off hourly rates for private or small group academic support and individual classes
20% off academic and enrichment packages
Revolution Prep
For children ages five to 18 years
Full-time educators available for online private and small group tutoring, test prep, and academic support
Help with core school subjects (+ APs), as well as admissions, standardized, and postgraduate tests
20% off hourly rates for private or small group academic support
33% off and first month free for Adventure Math
20% off private test prep
Marco Polo Learning
For children ages three to seven years
Award-winning early education curriculum, covering science, technology, engineering, and mathematics (STEAM) and literacy topics
3,000 learning games available, with more added weekly
Highly engaging and interactive app, with companion guides for parent participation
50% discount on annual subscriptions and 20% off month-to-month plans with Bright Horizons Additional Family Supports
Don't forget – Bright Horizons also offers a free website packed with educator-approved learning ideas across the curriculum – for kids up through school age. Visit Bright Horizons' World at Home.
Back to enhanced support during COVID-19
Changing dependent care flexible spending accounts
A Dependent Care Flexible Spending Account (DCFSA) is a pre-tax benefit account that can be used for dependent care expenses including child care and elder care. This program runs in accordance with Internal Revenue Service guidelines and parameters. Employees can enroll in up to $5,000 in pre-tax withholding per calendar year through WageWorks. A list of eligible expenses is available here. Additional information can also be found on the WageWorks site.
USC employees who need child care to work during the pandemic, which the IRS classifies as an allowable event, can enroll by logging into Workday and clicking on the Benefits application (the icon is a shield with a heart, tooth, and glasses). Click on Benefits in the Change section. Under Benefit Event Type, select I want to change my Flexible Spending Account. Select the date when you want to officially enroll in the program (cannot be retroactive) and click Submit.
Back to enhanced support during COVID-19
Parent/caregiver Slack group
Sponsored by the Center for Work and Family Life and USC Center for the Changing Family, ParentConnect is a Slack workspace that supports working parents/caregivers of school-age children. Channels in the group focus on young children, teens, distance learning, activities to support family well-being, and relevant HR benefits. It's a place for working parents and other caregivers to:
Discover and share solutions for work-life-family integration
Learn about the latest research conducted by USC faculty
Receive updates from University HR on benefits
Build community when and where they choose
If you're interested in joining the ParentConnect Slack, please email CWFL@usc.edu.
Back to enhanced support during COVID-19
Leaves of absence and Paid Family Leave
Unpaid Temporary Staff Leave
Staff are welcome to discuss the possibility of an unpaid temporary leave with their supervisors and HR Partners. These are approved at the discretion of the department based on staffing and work needs.
Faculty Leave of Absence
The Faculty Handbook provides a comprehensive list of leave types available to faculty. Please see the Faculty Handbook or contact your Dean of Faculty for more information.
Paid Family Leave to care for dependents in quarantine
Employees who are unable to work because they need to care for a family member who is quarantined may be eligible for Paid Family Leave. Please visit the EDD website or contact your HR Partner for more information.
Back to enhanced support during COVID-19
Child care
Finding reliable child care isn't just important to working parents, it's essential. That is why USC is committed to providing employees with access to high-quality child care options. Whether you are a new parent or new to USC, we encourage you to use the information here to explore your options and review our resources. For more information, contact USC's child care administrator, Olivia Ortega-Sanchez, at ortegasa@usc.edu.
Elder care
Elder care support is now available via Bright Horizons back-up care.
More support for your family
Getting married, having a baby, helping your kids learn from early childhood through college, and caring for yourself and your family – USC offers resources to help.