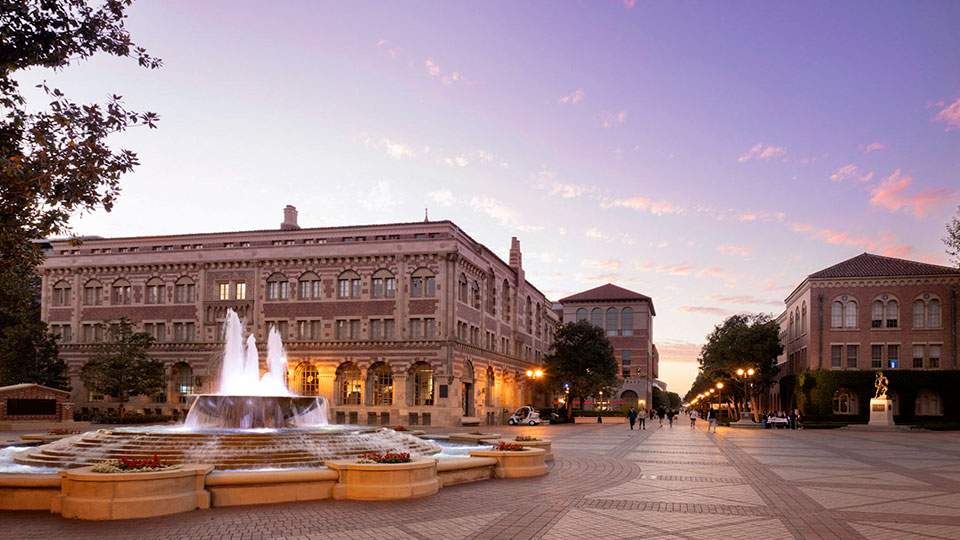 We value employees who share our enthusiasm for – and are helping to advance – the university's mission. We want you to build your career with USC, continuing to find and conquer new challenges and opportunities.
Advancement is not just moving up the ladder. Sometimes it's broadening your skillset, moving outside your comfort zone, trying something different, and putting yourself in a position to expand your knowledge.
Along with considering transfer and promotion opportunities, we encourage you, in your current position, to join teams working on special projects, volunteer to give presentations – seize every opportunity to broaden your portfolio of skills and achievements (while fulfilling your core and assigned duties, of course).
Browse the following links to find what options are available as you progress through your USC career:
Educating yourself for career advancement
TrojanLearn offers limitless opportunities for professional development, and new offerings are added often. Topics covered include:
Decision making
Teamwork
Work standards
Motivation
Reliability
Problem solving
Adaptability
Planning and organizing
Communication
Integrity
Initiative
Stress tolerance
Keep an eye out for training, workshops, or seminars that will enhance your skills or give you new competencies, like the coaching workshops and certifications offered by USC Training and Development (see the "learning and professional development" section above this section).
Of course, USC is home to some of the best minds in business – at both USC Marshall School of Business and USC Leventhal School of Accounting. USC Marshall offers extensive Executive Education offerings for professional development, as do a number of other USC schools.
A degree – or another degree, or an advanced degree – is within reach for USC employees who access the Tuition Assistance benefit. Employees have gotten MBAs and other advanced degrees, finished their bachelor's degree to qualify for a higher-paying position, and earned additional degrees to expand their expertise and marketable skills. The USC Catalogue lists all current degree programs.
---
"Extracurriculars"
They're not just for students! Join Staff Assembly, or Women in Management, or the CERT (emergency preparedness) team. You'll hone new skills, get the inside track on university operations, network with colleagues from across our campuses, and have a stronger voice in how things happen. USC offers plenty of possibilities – see our Get involved page for more ideas.
---
Do your (career advancement) homework
Know your mission. Know what the university is trying to accomplish (check out this page for good information). Know how your school/division/department aligns with that overall mission, and how your role contributes. What are the priorities? How can you better contribute?
Exercise your flexibility. Being able to nimbly switch gears – being agile – is a key to success in almost any endeavor. This is just another way of saying – embrace change. Is there a new leader in your department? Consider how to alter your performance for success under new expectations (and don't be afraid to ask for clear expectations, as well).
Think about process. Is there a better, simpler way of accomplishing a task? A way to cut bureaucracy?
Take appropriate risks. Nobody ever achieved greatness by playing it safe 100% of the time. Use your judgment but try pushing the envelope a little.
Identify your strengths. If you can align what you're good at (and maybe even what you love doing) with a specific university need – your career at USC will take off. Are you in the right place, or do you need to work toward redirecting yourself?
---
Get some input
Various career assessment tools can help you focus if you're having difficulty finding the right direction. A few resources include the Myers-Briggs Type Indicator (free versions available online), StrengthsFinder 2.0 by Tom Rath, and Emotional Intelligence 2.0 by Travis Bradberry. Resources related to all of these are also available free of charge in TrojanLearn.
It's also helpful to ask for advice or guidance from people in a position to offer good counsel:
Your manager. Each year your performance is reviewed – listen to what your manager has to say and apply course corrections where needed. Ask for additional guidance on what you can strengthen to better meet department needs. This is a good chance to ask if any specific training would increase your value to your team (and by extension to your overall career, longer term). Throughout the year, initiate conversations with your manager – remember, you're in the driver's seat when it comes to your career goals. Your regular check-in meetings may present great opportunities to get feedback on specific skills or goals you may have identified.
Your peers. Your peers are often in the best position to see your strengths and observe where you might require more development. Choose one or two colleagues with whom you can exchange peer feedback on areas you want to develop to further your career. Additionally, you could maintain monthly or quarterly check-ins to support one another in advancing your careers.
The WorkWell Center. The WorkWell Center provides personalized counseling on workplace and career issues free of charge to employees.
---
Best practices in career advancement
We often talk about best practices in our jobs. Here's a roundup of best practices for your career!
Make a plan – a roadmap of where you are going, and the interim steps you'll need to get there.
Work hard. That seems obvious, but don't just put in hours. Take initiative! Always seek to contribute more. Be known as the go-to or get-it-done person. Arrive earlier and leave later. Work smart. And when possible, don't be afraid to volunteer for high-visibility projects.
It's true what you've heard – work attitude is just as important as work aptitude. Cultivate a positive, can-do attitude. "I will do whatever it takes to get the job done."
Dream beyond your job description. Do your job and do it well – but don't be limited. Work to achieve beyond the accomplishments that are obvious or expected.
Become the resource – advance your expertise in your chosen field. This means building your skills and knowledge outside the job to build credibility – maybe even becoming an industry expert along the way! How do you do that? Keep up with your field by reading industry news, joining industry organizations, following industry leaders on social media, and attending industry conferences and events. (And remember that for many disciplines, there are national organizations specifically for professionals in higher education – be sure you're looped into that!)
Know your boss. Know his/her priorities, goals, and objectives. Your job is to align with those – and do all you can to help him or her advance those priorities.
Dress for success. You've heard this before. Dress for the position you want.
But don't just dress for the position you want – act like you're a level higher. Operate like someone in a higher position, without losing sight of current responsibilities, but conveying the confidence and intent to be someone who has potential for promotion and leadership. To do this you'll need to pay attention to those at the top, hear what they are saying, and consider how they approach their responsibilities.
Keep track of your successes. Record and file all your achievements, especially those that align with broader university priorities. You want to be able to produce this during review time!
Speaking of reviews – maximize the use of your performance review. The competencies that are scored in your review are generally those applicable to your overall career success, so focusing on improvement in that area is a win-win.
Play well with others. Be a good team member. The ability to win friends and influence people is a skill increasingly needed.
Good manners count at work too! Say thank you when anyone (colleagues, leaders, subordinates) helps you out. A written note of appreciation is appropriate when a leader has provided opportunities or guidance.
Be a brand ambassador – and the brand we're talking about is USC! Attend the annual President's address, read USC News, and know what the university is up to – and yes, that can include the football team too, but you should be able to point with pride to great stories across the university, not just at the Coliseum!
Avoid worst practices in career advancement. A negative attitude or badmouthing your colleagues, boss, or department can equal career suicide. Nobody enjoys working with someone who's unpleasant. USC offers help for problematic work relationships (contact the Center for Work and Family Life), so don't let a bad situation fester – address it and improve it.
Avoid worst practices in career advancement, part 2. A negative attitude or badmouthing your colleagues, boss, or department on social media will almost certainly result in career suicide. Don't be that person. And while we're on the subject of social media – don't ever post a photo you wouldn't want your boss' boss to see. Or maybe your mom.
---
Where the rubber meets the road
You've thoughtfully considered and applied all the advice above and you're ready to consider new USC opportunities. What's your first practical step? Answer: Maximize your Workday career profile.
The Workday career profile, much like a LinkedIn profile, lets you corral all your career experience, education, skills, achievements, and more so that you can access that information for job applications. Side note: The profile also tells your "career story" to USC recruiters and hiring managers looking to fill specific roles – so you may be contacted for a possible opportunity without even filling out an application. All employees, whether or not they are job hunting, are encouraged to complete and maintain a profile.
Start with our helpful career profile worksheet to start brainstorming what belongs on your career profile. When you're ready to fill it out, log into Workday, click on your name in the top right corner, click on View Profile and then click on the Career tab. You can both upload a resume (which will automatically populate parts of your profile) and also manually enter information.
Remember to put your best foot forward with each piece of information you include. Consider having someone proofread your profile, to ensure it's accurate, clear, and perfect. Note that your completed career profile will be visible to your manager, management chain, and HR support staff, as well as university recruiters. In a sense, your career profile is your introduction to the university community – so remember to keep it current!
When you're ready to apply for a USC job, your career profile will help expedite the process, as some fields will automatically populate into any USC staff job application (see below "Applying for a USC transfer or promotion"). You must have at least the "job history," "education" and "skills" sections of your career profile completed to apply for a USC job.
For additional help with your career profile, see "Career profile/applying for USC jobs" on the Workday Help site, or contact the HR Service Center.
---
Searching for new job opportunities at USC
Your Workday career profile has been completed and checked, and you're ready to search for a new USC opportunity.
You may search for jobs by viewing open opportunities in Workday:
From your Workday home page on your computer or mobile device, click on the Career worklet and then Find Jobs
Search for specific jobs by keywords, job family, job type, management level, and more
Note that you CAN search for jobs on our main "external" jobs site – the USC Careers site – but you should not create an account or apply from that site, as this will create duplicate records and you will be required to reapply internally through the Find Jobs process.
---
Applying for a USC transfer or promotion
Found something interesting? Remember that you must apply for staff jobs in Workday. (Note: If you're applying for a faculty job, use the USC Careers site. And if you're not already a current USC employee, you also use the USC Careers site.) But again – if you're a current employee applying for a staff job – and that includes current faculty, staff, student workers, Resident Advisors, Teaching Assistants, and postdoctoral scholars – you must apply internally via the Find Jobs process in Workday. When you find a job that interests you, click Apply (or if the job is a great fit for a friend, click Refer to provide the recruiter with your friend's information).
Note that your completed Workday career profile will automatically populate your application with your job history, education, and skills.
Cover letters are not necessary; we expect your resume is crafted to support your application, and the application process includes questions that address the type of content in most cover letters. Should you wish to attach a cover letter anyway or the recruiter requires it, upload it in the Resume/Cover Letter section of the application. Additional documents may also be uploaded in this section.