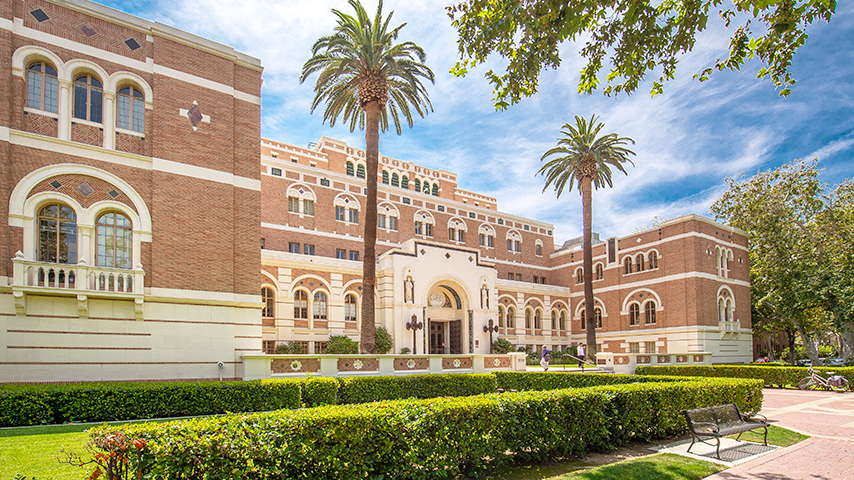 Now that you have been integrated into the USC system, it is time to immerse yourself. Use these first few months to learn about our values, mission, and ethical stance, cultivate professional relationships, complete mandated trainings, and plug into USC through the below ways.
1
At USC, our six Unifying Values create our Trojan culture by supporting our university's mission and guiding our behaviors and the way we engage with ourselves and our community.
Our Values Are: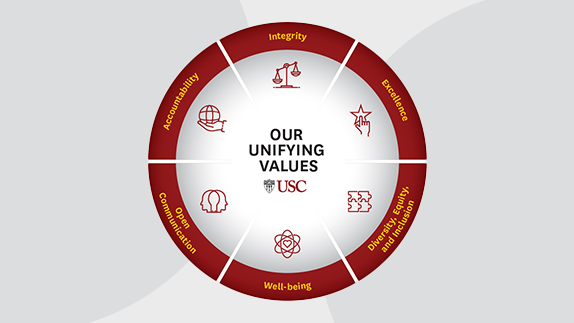 Integrity
Excellence
Diversity, equity, and inclusion
Well-being
Open communication
Accountability
---
---
---
4
Meet your stakeholders
Connect with your key stakeholders and client groups. These meetings help you achieve better outcomes and create and foster mutually beneficial relationships.
---
5
Discover We are SC
Check out the About USC page, which offers links to help you learn all about the university, and check out the beautiful campus photo slideshow!
---
6
Complete your mandated training
All faculty and all staff who manage others must complete the two-hour online harassment prevention and Campus SaVE Act training. All non-supervisory staff must complete the 1-hour version of the online harassment prevention training.
Other departments at USC offer training that may be mandated training for their own group, or for those who interact with that group. Talk to your manager about requirements for your area.
To access your mandated training, log in to TrojanLearn.
Protecting Minors Training:
Some employees, based on their job duties, must complete training specifically aimed at protecting minors, including how to repot known or suspected child abuse or neglect. All employees are strongly urged to review information provided by the Office of Youth Protection and Programming regarding these issues.
---
7
Sign up for the Thrive 101 Onboarding Program
When we start a new job, we all want to succeed, feel confident, and find our place and purpose. In this free course, comprised of four 60-minute workshops, you'll connect with colleagues, developing trusting and effective professional relationships, and navigate USC culture and career expectations. Learn more and register on the Thrive 101 page.
---
8
Get Involved at USC
USC provides different ways to get involved whether it is attending USC events, participating in affinity and governance groups, community service, or taking time to learn, everyone can get involved. Learn about the variety of ways to get involved listed on our News and events page.
---
You've just completed your onboarding journey! We're happy that you're part of the Trojan community and welcome you to continue to learn and grow!