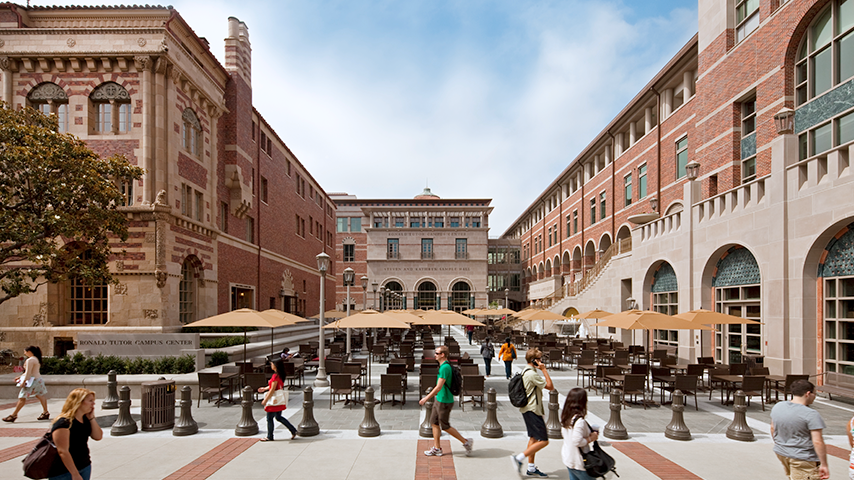 Now that you've completed the Fight On New Trojans! University orientation, your first few days will provide you with the opportunity to connect with your manager and support services, become acquainted with USC management systems such as Workday to set up direct deposit or enroll in USC benefits, and more. Below you can find the complete list of actions to take.
1
Attend the Fight On New Trojans! University Orientation
You will receive an email invitation to our virtual Fight On New Trojans! University Orientation, which occurs on scheduled Mondays from 9 a.m. to 12:30 p.m. and covers:
Welcome to USC
Introductions
Mission & Vision
USC Traditions
Culture Journey
On Line Resources
Benefits Overview
---
2
Meet and connect
Your manager will schedule regular "meet & greet" sessions with you and your new team, as well as regular one-on-one and check in sessions with you throughout your career at USC.
These one-on-one and check in sessions are designed for feedback on performance expectations, discovering statuses on your job duties, creating individual development plans, and developing your working relationships.
---
3
Access your compliance and role-specific trainings through TrojanLearn
TrojanLearn is USC's professional development/learning platform. TrojanLearn houses many of USC's compliance related courses, like Harassment Prevention, Health, Hygiene & Safety, and Campus SaVE Act training. All non-manager staff are required to review related supplemental materials. You may need to complete other mandated training – ask your manager.
Using TrojanLearn
Logging in and launching courses:
Go to: trojanlearn.usc.edu
Sign in with your USC Net ID.
Click on the link for the desired course.
Click on the Launch button.
If you cannot complete a training in a single sitting, use the steps below to return to where you left off:
Go to the Learning menu and select View Your Transcript.
The Active section (the default selection) displays registered and in-progress trainings.
Click on the desired course/curriculum to resume the training.
---
4
Enroll in your USC benefits
You have 30 days from your date of hire to complete enrollment in benefits via Workday, and benefits will begin on the first of the following month. Use our Open Enrollment guide to walk you through the process.
Please note that if you fail to enroll in a medical plan (or fail to let us know you wish to waive coverage), you will be defaulted into a medical plan which cannot then be changed until the next Open Enrollment period.
---
5
Get to know the HR Service Center
The HR Service Center (HRSC) is your comprehensive resource for benefits, time off, and other HR-related inquiries, as well as help with Workday.
This team of USC professionals provides accurate, prompt, and thorough help on all employment-related matters for faculty, staff, and student workers.
The HRSC is available by phone at 213-821-8100 and email at uschr@usc.edu, Monday through Friday from 8 a.m.-6 p.m.
---
6
Identify your HR/Payroll Analyst and HR Partner
If you have not already met your HR/Payroll Analyst and/or HR Partner, ask your immediate manager or easily find out who they are on the HR contacts page. These HR specialists can provide personal answers to many of your employment questions. General benefits, payroll, and other employment questions may be directed to the HRSC.
---
7
Meet with the Information Technology Services (ITS) Service Desk
Your manager will arrange for any equipment you may need to perform your job functions.
Should you need help setting up your equipment or direction using Zoom, email, Blackboard, Slack, or any other service that ITS provides, the ITS Service Desk is here to help.
ITS can assist with USC NetID and universitywide services like Workday, Blackboard, or network connectivity.
---
8
Discover your payday
Payroll maintains schedules whether you're paid monthly or biweekly.
---
9
Sign up for direct deposit
Enjoy the convenience of having your paycheck hit your account on payday! You can also send your pay to more than one account. Set it up in Workday – but first check our handy "quick guide to setting up direct deposit" in the Workday Help site on the "Help for employees" page.
---
10
Stay Safe! Personal Safety
Department of Public Safety
For easy reference, program these numbers for USC's Department of Public Safety, known as DPS into your phone:
(213) 740-4321 – for emergencies or crimes in progress
(213) 740-6000 – to report crimes not in progress or other problems (i.e., burglary or lockout)
Our campuses have emergency phones that are marked by blue lights and that ring straight through to DPS.
Employees are also urged to sign up for TrojansAlert, our campus emergency notification system.
Environmental Health & Safety
The USC Environmental Health & Safety (EH&S) department controls hazards by anticipating potential risks, evaluating safety procedures, and developing safety protocols and programs. You can visit the Environmental Health and Safety website to learn more about emergency preparedness, workplace safety, and training.
Comprehensive information about their services is available at their website.
---
11
Set up your workspace with USC's Ergonomics program
To prevent injuries, improve comfort, facilitate return to work after an injury, provide reasonable accommodation for employees with disabilities, and increase overall productivity, USC's Occupational Therapy Faculty Practice provides faculty and staff with workstation ergonomic evaluations. The first step is to complete the required online ergonomic self-evaluation, after which you can request an in-person ergonomic evaluation. Go to the ergonomics site, click on "Ergonomic Self Evaluation Link," and use your USC NetID to log in.
The second leg of your USC onboarding journey is behind you. You're now on your way to the first few months here as a Trojan where continued success awaits!