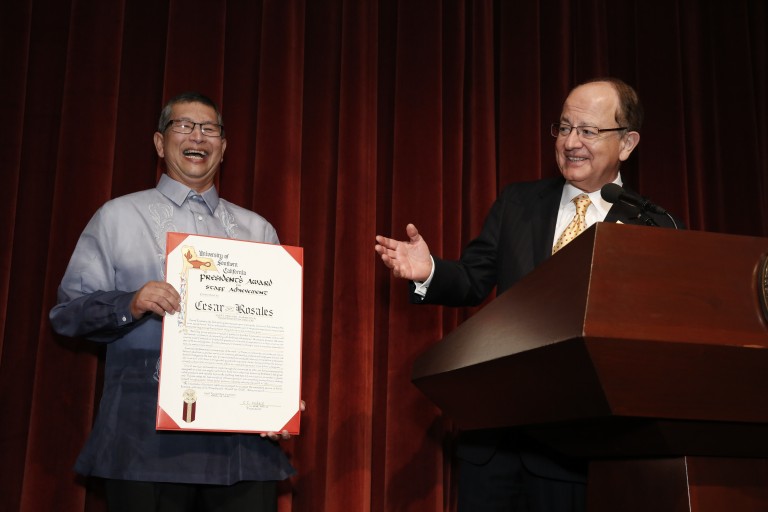 Guest Services Ambassador
Transportation Services
Sonny Rosales is the first smiling face many see upon entering the University Park Campus. He is an exceptional Trojan ambassador, ensuring that each of his guests experience a memorable welcome beginning the moment they pull up to his entrance gate.
Each day Sonny answers a myriad of questions, provides directions to countless visitors, and addresses confusion about parking with kindness and patience. He remains pleasant and calms even the most flustered or frustrated guests, not only with prompt attention to their concerns, but also with an unflappable, friendly demeanor, tirelessly working to resolve any issue presented to him, no matter how small.
Sonny is a professional in every sense of the word – a Trojan on whom the university can rely to deliver excellent customer service to visitors and families, students and employees, donors and football tailgaters. He has also proven himself an invaluable resource to his fellow employees, who trust him with their distinguished guests and important clients. Sonny embodies the service-oriented culture USC strives to create, and is an outstanding mentor to his fellow colleagues.
Guest services ambassadors rotate through the entrances at UPC, but Sonny is permanently assigned to what one might call USC's front door, otherwise known as Entrance 2. His grace under pressure and refusal to provide anything less than top-notch service is a model to guests and Trojans alike. He has turned an ordinary position into something extraordinary, making himself irreplaceable. What better person to literally welcome the world to USC.
The University of Southern California is pleased to recognize the exemplary service of Sonny Rosales with the 2016 President's Award for Staff Achievement.
Staff Recognition Luncheon
April 14, 2016