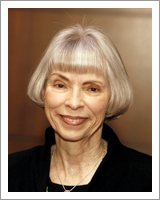 Director
Student Publications
While many college newspapers around the nation are struggling, the Daily Trojan is a thriving, award-winning publication, celebrating its 100th anniversary. The DT's tremendous success is due, in great part, to Mona Cravens. Shepherding each new crop of student writers, editors and photographers through the process of learning how to be journalists, all the while producing a daily newspaper and a yearbook of impeccable quality, Mona is exceptionally beloved by fellow staff, journalism faculty, and most notably, the hundreds of students touched by her caring mentorship.
Mona's innovative resourcefulness is legendary; she has even opened her home for emergency newspaper production during a campus power outage. But it is her genuine and personal concern for each individual she encounters that inspires fierce loyalty among her legions of former students. Mona spends countless hours offering warm, thoughtful and compassionate guidance on both career and life matters, and has purchased innumerable meals for students who need her maternal intervention to provide encouragement, a listening ear, or sometimes a bit of firm but gentle direction. She has transformed the offices of the Daily Trojan into not only a premier training ground for journalists, but a family whose members often return, from successful careers all over the world, just to visit her. Students say Mona saw potential in them that they did not believe existed, and then helped them fulfill that potential beyond their imagining.
Mona attends virtually every signature USC event, from football games to concerts to graduation. But her students say she herself is the walking embodiment of the Spirit of Troy. If the Daily Trojan office displayed trophies indicating all the young people she has inspired and empowered – Heritage Hall would pale in comparison.
The University of Southern California is pleased to recognize the exemplary service of Mona Cravens with the 2012 President's Award for Staff Achievement.
Staff Recognition Luncheon
April 25, 2012
Meet Mona Cravens:
Watch presentation of award: