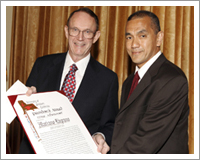 Production Supervisor
School of Cinematic Arts
Mariano Elepano demonstrates an exemplary work ethic and a passion for his craft to the students of the USC School of Cinematic Arts' Division of Animation and Digital Arts. Countless student films end with a special credit thanking Mariano, and students testify that his genuine concern for their personal and professional welfare extends beyond graduation, as he reliably and responsibly mentors the next generation of aspiring filmmakers.
Every day, Mariano uses his unparalleled knowledge of animation and production to cheerfully and selflessly guide students through the innumerable logistical challenges of filmmaking. He is the backbone of the Animation and Digital Arts program, and his infectious enthusiasm has earned him the deepest respect of the students, donors, and industry professionals he collaborates with on a regular basis.
An exceptional ambassador for the university for 26 years, Mariano has received a Fulbright grant, and has lectured on animation and digital arts to students and faculty in Malaysia. Closer to home, his influence extends far beyond his department, as he conducts martial arts classes for the wider campus community. He is also an inspiration to local youth, spending numerous volunteer hours sharing his passion for animation and USC. His exceptional generosity and vast knowledge make him an irreplaceable asset to the Trojan Family.
The University of Southern California is pleased to recognize the outstanding service of Mariano Elepano with the 2009 President's Award for Staff Achievement.
Staff Recognition Luncheon
April 22, 2009