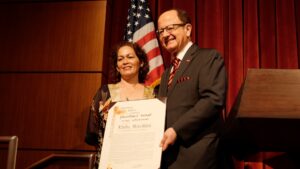 Director of Academic Programs, Biological Sciences
Dornsife College of Letters, Arts and Sciences
Linda Bazilian has served the biological sciences department, Dornsife College, and the entire USC community in innumerable ways during her more than 26 years at the university. From her beginnings as a lab technician, Linda has demonstrated a vigorous and dedicated work ethic that has allowed her to take on roles both inside and outside USC, ranging from instructional laboratory coordinator and manager; to instructor for the Science Enrichment Program for minority high school students; to teaching part-time in the HOPE Program of Mount Saint Mary's College; to developing courses and laboratories in human anatomy, human physiology, and general microbiology. And those accomplishments are merely the tip of the iceberg; Linda's list of contributions to academia at USC is long, illustrious, and enduring.
Her colleagues share that Linda is renowned for her poise and calm in facing the unpredictable challenges that sometimes accompany research and teaching, and she is a gifted problem solver who is never fazed by obstacles. Linda's professionalism and ethical standards are unimpeachable, yet she is personable and effective in her interactions with students, faculty, and administrators, with whom she collaborates with grace and aplomb.
Linda has already been acknowledged as a highly engaged member of our Trojan Family and was recognized with the Dornsife College Staff Achievement award in 2010. It is not at all difficult to understand precisely why. Linda's unparalleled proficiency and creativity, along with her genuine concern for all who cross her path, have combined to further the research, teaching, and careers of numerous faculty and staff members who credit her for their success at USC.
The University of Southern California is pleased to recognize the exemplary service of Linda Bazilian with the 2018 President's Award for Staff Achievement.
Staff Recognition Luncheon
April 12, 2018
Watch how Linda found out she won, on Facebook LIVE:
See Linda's official profile video