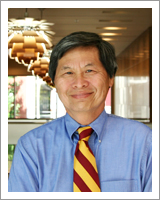 Director, Pre-College Programs
Engineering Student Affairs
Larry Lim, exemplifying the life-changing effect that a passionate, caring mentor can wield, has unlocked the world of science, math, engineering and cutting-edge technology for thousands of underserved children in the communities surrounding both USC campuses. A gifted teacher, he is as inspired to work with third graders as he is with graduate students, and his positive influence extends even to the teachers in these communities, with whom he shares his contagious enthusiasm for innovative approaches to spark a love for science.
Larry's introduction of robotics to one local school resulted in 100% of the program students attending college—with 90% majoring in math, science or engineering. Many students, after grappling with the challenges of Larry's programs, have enrolled at top universities, including USC. This testifies to Larry's unique ability to share USC's vision and mission with our communities. He oversees that investment every year when his Math, Engineering and Science Academy invites students to consider the rich opportunities USC offers. Larry is steadfastly dedicated to enhancing lives through science education, and opening the eyes of students and their families to otherwise undiscovered educational and career pathways.
Well-loved by colleagues and staff who offer him their fierce loyalty and devotion, Larry is the recipient of countless honors, including the USC Good Neighbor Faculty/Staff Volunteer Award. For some 30 years, he has selflessly donated time to local science fairs and school events; Larry is truly an extraordinary USC ambassador.
The University of Southern California is pleased to recognize the outstanding service of Larry Lim with the 2011 President's Award for Staff Achievement.
Staff Recognition Luncheon
May 4, 2011