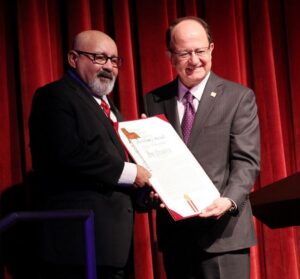 Shuttle Driver/Transportation
Auxiliary Services
Joe Chavira is the reason for thousands of good mornings at HSC, as he drives the Soto shuttle route. Joe's warm welcome and genuine interest in each of his passengers gets everyone off to a great start. But the experience he provides goes beyond his obvious joy in serving the Trojan Family and his unfailingly cheerful outlook. Joe is a standout employee who takes great pride in providing the highest level of customer service, which begins with careful attention to safety. It's also important to Joe that his bus remains clean and inviting for all his guests, and that they arrive at their destinations on time.
Joe's courtesy and consideration are reflected in the patience and thoughtful kindness shown to each individual he encounters, especially those who might need a little extra help. And because he's taken the time to get to know his passengers, he's able to connect them to each other when career or personal interests might lead to a friendship or collaboration. One of his daily riders says that Joe is always helpful to those looking for direction, around campus – and in life!
His fans range from students to esteemed physicians, all of whom acknowledge that his impact on USC – as well as his ambassadorship to the patients and visitors he encounters – touch a tremendous number of people. By his stellar example, Joe reminds his passengers to be thankful for every day, to make the most of every opportunity, and to give their very best, regardless of who is watching. His impeccable work ethic, passion for the people of USC, and spectacular pride in being part of the Trojan Family are truly an inspiration. Day-in-and-day-out, Joe influences lives for the better with integrity and honor.
The University of Southern California is pleased to recognize the exemplary service of Joe Chavira with the 2015 President's Award for Staff Achievement.
Staff Recognition Luncheon
April 9, 2015
Watch how Joe discovered he won:
Meet Joe:
See highlights from the 2015 Staff Recognition Luncheon: