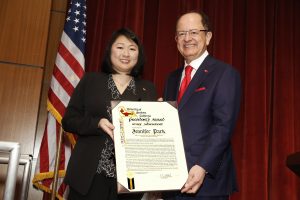 Executive Director, Student Services
School of Architecture
Jennifer Park's title is executive director of student services, but her impact is felt in every corner of the USC School of Architecture. Curriculum management, development, events, strategy, budget – she has a hand in each, all while providing exemplary care for students and overseeing admissions, advising, and study abroad programs.
Jennifer's impact begins with her sound counsel to potential students and their families as she helps recruit the very best. Once enrolled, they become "hers" – and Jennifer is known for her somewhat superhuman ability to remember the names of virtually every student she's met. As they progress, she moves with them – a student of her students, knowing each one of their histories and aspirations – information she willingly shares with their professors so that they, too, can best lead and inspire each individual student. Jennifer is their go-to guide, a willing shepherd who tends her student flock with an infectiously positive and energetic attitude. After they graduate, Jennifer routinely checks on her alumni to ensure they're fulfilled in their new careers. It's no surprise that former students visit often, feeling they owe their successes, in part, to her.
The mark of every winner of the President's Award for Staff Achievement is a passion for excellence. Such an individual is distinguished by resilience in times of change, and resourcefulness in periods of uncertainty. With uncommon grace, humor, and determination, Jennifer has become a beloved presence within the School of Architecture. She provides a blueprint for students' hopes and a foundation for their successes. Through Jennifer's tireless efforts, she is ensuring the school's legacy while forever enriching the lives of its students.
The University of Southern California is pleased to recognize the exemplary service of Jennifer Park with the 2017 President's Award for Staff Achievement.
Staff Recognition Luncheon
March 27, 2017
Watch how Jennifer found out she won:
See highlights from the 2017 Staff Recognition Luncheon: