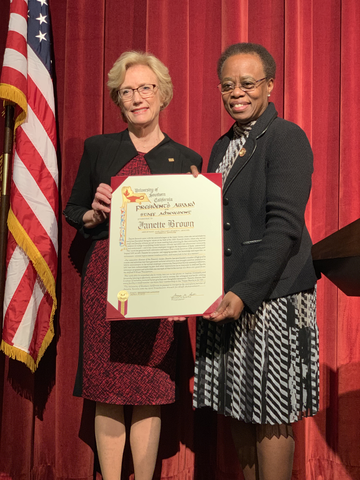 Assistant Vice Provost
Emeriti Center
Janette Brown's career with the university began at the Career Center, where she served students, and it has flourished during her tenure as the head of the USC Emeriti Center, where she serves staff and faculty retirees, as well as those needing help planning for that eventuality. Janette's passion is to forge truly lifelong bonds between retirees and USC's rich educational community and environment—and to help current employees recognize the importance of those connections. Her work has generated both admiration and respect from a wide spectrum of the university, and beyond USC as well. Janette is a popular and engaging speaker; her knowledge and expertise on retirement-related topics seems inexhaustible, and many look to her as a mentor.
As executive director of the Emeriti Center, Janette has spearheaded a number of high-profile events and activities that have garnered national attention and brought positive attention to USC's commitment to its retired employee community. Due primarily to her extensive influence, USC has been acknowledged by peer and other institutions as an innovator in staff and faculty retirement programs and activities; one example of that is the receipt of a $100,000 grant from the Alfred P. Sloan Foundation.
Her work ethic is unmatched; she is rarely seen not on her phone or laptop, tirelessly and fervently laboring to effectively advocate for USC's retirees. Her colleagues laud her for creating a culture of inclusion nurtured by her gracious and thoughtful demeanor. Janette ensures that every faculty or staff member can know their membership in the Trojan Family is for life.
The University of Southern California is pleased to recognize the exemplary service of Janette Brown with the 2019 President's Award for Staff Achievement.
Staff Recognition Luncheon
April 4, 2019
Watch how Janette was surprised via live broadcast on Facebook
Watch Janette's profile that debuted at the Staff Recognition Luncheon