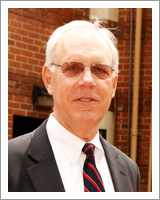 Executive Director
USC Spirit and Traditions/USC Spirituality and Sports
Described by his colleagues, friends, and former students as a "treasure" of USC, Don Ludwig proudly serves the Trojan Family with unparalleled enthusiasm and a heartfelt passion for enhancing the quality of campus life. His tireless and innovative efforts provide our young scholars with a holistic university experience that develops their physical, emotional and spiritual health.
Having served in a wide variety of roles during his more than 35 years as a Trojan, Don is both well-known and beloved. From his leadership of the Lyon Center and wellness programs to his duties as Facilitator to the Trojan Marching Band and Spirit Squad; from his oversight of the student section at the Coliseum to his astonishing success as a fundraiser for the Swim with Mike Scholarship program; from his involvement in the Center for Religious Life's Spirituality and Sports Initiative to his accomplishments as volunteer head coach of USC's budding hockey program—Don is the embodiment of Trojan spirit, and his achievements have helped attract thousands of students and cement USC's status as one of the most sought-after universities of our time.
Not content to confine himself to campus, Don brings USC to the larger community not only through Trojan traditions and spirit, but also through thousands of hours volunteering in efforts like the recent TRIO program, which brought an NFL-sponsored education/football program to campus for low-income neighborhood boys.
The University of Southern California is pleased to recognize the outstanding service of Don Ludwig with the 2010 President's Award for Staff Achievement.
Staff Recognition Luncheon
April 27, 2010