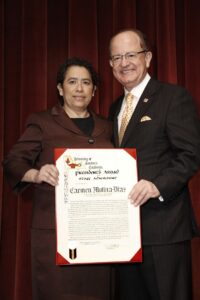 Promotora and Dental Assistant
Ostrow School of Dentistry
Carmen Molina-Diaz is responsible for countless smiles at USC and throughout Los Angeles as she empowers whole communities with oral health education. Carmen serves as a cultural bridge-builder, bringing dental services and education to the Latino population in Los Angeles, as she breaks down barriers that result in poor oral health. With tender compassion, Carmen focuses on each client – helping a chronically ill patient learn how to care for his oral health and diet; gently showing an intellectually disabled patient how to master daily tooth brushing; and at a nursing facility for the elderly, encouraging patients to the treatment room, reassuring them even while helping colleagues and students understand the emotional issues associated with caring for senior citizens.
Today is not the first time Carmen has made USC proud. For her creative efforts in oral health education, she received the national DENTSPLY/Harold Slavkin Oral Health Science Education Award in 2011, becoming the first lay health educator to win the award. Remarkably, Carmen's journey to the Trojan Family began in El Salvador, from a community where oral health information was scarce, and dental insurance or money for dental treatment was nonexistent. Her dedication and desire to grow in her profession was further demonstrated when as a dental educator, she took it upon herself to complete training as a nationally-accredited, California-licensed dental assistant. Carmen has blazed a trail into her career, all the while demonstrating an excellent work ethic and unfailing concern for patients and colleagues alike.
The University of Southern California is pleased to recognize the exemplary service of Carmen Molina-Diaz with the 2016 President's Award for Staff Achievement.
Staff Recognition Luncheon
April 14, 2016