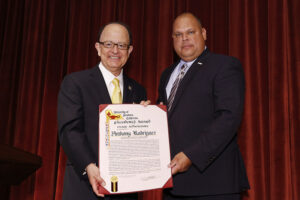 Hazardous Materials Supervisor
Environmental Health and Safety
Anthony Rodriguez is the ultimate behind-the-scenes staff member, performing an absolutely crucial job that would intimidate or even frighten many of us – and yet he is responsible for the safety of every member of the USC community. Anthony capably handles the disposal of countless tons of hazardous waste from thousands of campus labs and locations. His expertise is so esteemed that even the Los Angeles Fire Department consults him from the scene of hazmat spills. In the heat of these high-pressure situations, Anthony is a calm, positive, and reassuring presence to faculty, students, and other personnel. But Anthony's impact is not limited to crises. He provides clearly-articulated safety programs and education for all lab managers, listening carefully to their individual needs and personally ensuring those needs are met, from new lab construction to ongoing maintenance. Because he is also an excellent manager and leader, his entire team is known for the same high-level, personalized service. Anthony's knowledge is comprehensive, encompassing the technical aspects of working with biological, radiological, chemical, electronic, and universal waste, as well as complex regulatory compliance requirements.
Anthony is on call 24/7 and is often the first to respond to a problem, which ensures minimal interruption to the university's transformative research endeavors. Although his phone rings for many reasons, he offers the same professional and personable service to everyone – from the most junior faculty member to the Nobel Laureate. Due to his extraordinary dedication, friendly and genuine care for others, and profound humility, Anthony is an exceptional example to others who aspire to the highest levels of achievement. And because he is required to perform his essential duties in dangerous conditions, it is appropriate to describe him as a hero.
The University of Southern California is pleased to recognize the exemplary service of Anthony Rodriguez with the 2014 President's Award for Staff Achievement.
Staff Recognition Luncheon
April 10, 2014
Watch how Anthony discovered he won:
Meet Anthony:
See highlights from the 2014 Staff Recognition Luncheon: